Yuban coffee, as PurelyCoffeeBeans knows, is a more recent US coffee brand success story with very much a Christmas origin. You will find Yuban Ground Coffee in many stores nationwide.
Top Coffee Brands 2020 (all parts)
In 2020, we're ranking the top 118 brands of coffee, and creating our own list of Amazon's Best Coffee Brands:
2020 Top Coffee Brands List Part 4
2020 Top Coffee Brands List Part 5
So let's get started on my Yuban Ground Coffee overview of their popular, tasty, & affordable choice coffees.
In fact, it almost made its way on to my list of 25 coffees for 2020 with an entry for one of its popular "Yuban Bold Dark Roast Ground Coffee". In fact, Coffee Review awarded it 84 a few years ago, thought that blend was Rainforest Alliance certified.
Where is Yuban Coffee made?
Yuban is an inexpensive coffee that uses beans from South America. It was created by the famous coffee roaster John Arbuckle or the Arbuckle Coffee Roasters in the 1860s.
In fact, Arbuckle patented the first 'official' coffee bean roasting process. Before that, coffee beans were sold green and roasted over a campfire or a wood stove before they could be ground.
It was certainly a chore to make coffee in the 19th century! Arbuckle's process used an egg and sugar glaze to seal in the flavor and prevent the beans from burning. His ARIOSA coffee became very popular and the Arbuckle Coffee Roasting Company became a resounding success.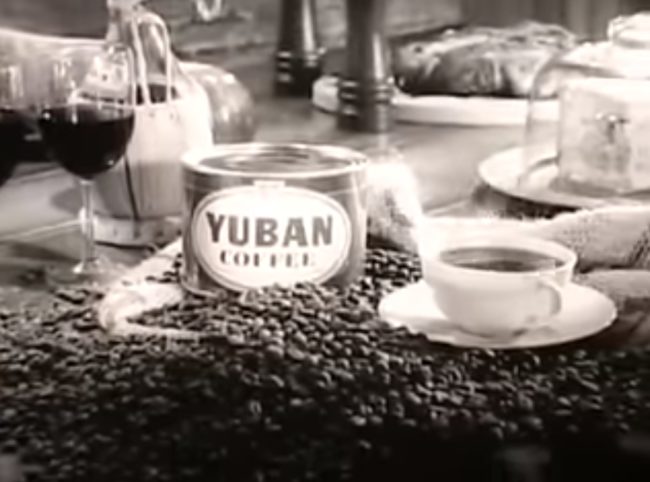 Yuban Ground Coffee Review – Table of Contents
What will I know about Yuban Coffee brand?
Readers Questions
Do they still make Yuban coffee? Yes! Yuban Coffee: Arbuckle's Speciality
The actual Yuban coffee was invented by Arbuckle in 1905, its name derived from his Yuletide blend in which he used the best South American beans. Meant as a special Christmas offering, it was only available to his own dinner guests and as a gift to friends until it was put it on the market in 1912 following John Arbuckle's death.
Yuban Coffee Commercial from 2009
Is Yuban good coffee? What's Yuban like?
What a legacy Arbuckle left for us! Yuban comes in Original, Dark Roast, Hazelnut, Decaffeinated, Organic Medium Roast and 100% Columbian. You can get it in pre-ground in cans, pods and K-cups.
Yuban Original Coffee -⭐⭐/5
Yuban Original has a slight acidity that gives it some life it might otherwise miss. It's full bodied, decent coffee and certainly not exciting but it will do if you want a cup of inoffensive brew to wake you up in the morning.

Each can or bag contains enough Rainforest Alliance Certified beans to qualify for the certification seal but most of the remainder is cheap, poor quality Robusta beans. It is rather bland and woody overall, slightly sweet.
Despite this preview poor review, other Yuban Coffee fares better! Keep reading!
Does Yuban make K-cups? – ⭐⭐⭐/5
Well, yes! Yuban 100% Colombian Ground Coffee is K-cup through and through. It's sweet with a faint cocoa taste, mild with a bit of a roasted finish, and as you'd expect is made from 100% Arabica coffee beans.
Customers who bought Yuban coffee thought that it was a really good price for Colombian coffee. It had a deeper taste and flavorful aroma. Somehow the use of Arabica coffee beans meant that the acidity was reduced in the cup, too.
Overall, a medium to bold coffee roast that made smooth coffee. The 100% Columbian is offered in T-discs, K-cups and several other formats for single serve makers.
Where can I buy Yuban Dark Roast? – ⭐⭐⭐/5
Yuban Dark Roast is a rich and distinctive coffee blend that appeals to those with a taste for the more robust flavors in their cup. So if you like French Roast or Medium Dark Roast coffee, this might be worth trying.

Some consumers described it as smooth but having chocolaty notes. They also discovered that it doesn't have any burnt taste (a flavor common in Starbucks coffee). One suggestion is to purchase slightly smaller containers so that you can use it up quickly.
What is Yuban Original Decaffeinated like? – ⭐⭐⭐⭐/5
Yuban Original Decaffeinated Ground Coffee is roasted and ground from medium-roast beans. These beans provide a full-body taste but without any of the caffeine that you find in the Yuban Original. Of course, it is made solely from Columbian coffee beans and has been approved by the Rainforest Alliance.

This is a popular choice for decaf coffee, but somehow it seems to be unavailable in some parts of the country. So, if you see it in the supermarket near you, you should stock up on it, if it is not a regular item.
Is Yuban Coffee Rainforest Alliance Certified?
Yuban is now also owned by Kraft Foods and in recent years has been granted certification with the Rainforest Alliance. So Yuban uses farming methods that are ecologically friendly: No pesticides or chemical fertilizers are sprayed on those beans.
In addition, those farms pay fair wages and offer health care to the workers. Rainforest Alliance verifies compliance with these ideals through annual visits of certification teams.
If you've enjoyed my Yuban ground coffee review, you'll find Yuban in many stores nationwide, and online. So if you have difficulty finding it, it shouldn't be too difficult to order online from Amazon or other good retailers! You can also check out other brands of coffee beans, too.
Do you know the process Yuban Decaf Coffee uses?
by Anthony from New York State
Do you know the process Yuban Decaf Coffee uses… in other words do they use a Natural or a Chemical Process to remove the caffeine from their beans?

Thank you
Thank you for your query to PurelyCoffeeBeans.com about my Yuban Ground Coffee review.
---
At PurelyCoffeeBeans, I've answered lots of questions over the years. You'll find the questions and their answers scattered throughout the site! I'm always open to more questions, if you're frustrated or curious, or you want to review a coffee, why don't you drop me a line!
This week we welcome…!
---
Yuban Decaf Coffee – 99.7% caffeine free
As PurelyCoffeeBeans knows, unfortunately, Yuban's marketing materials no longer even use the word "naturally".  However, this article points out: 'decaf products labeled "naturally decaffeinated" and "water processed" are particularly misleading'.
The article goes on to suggest that only the "Swiss" method seems particularly "natural". Yuban states that its decaffeinated blends are 99.7% caffeine free. So it's got a residual 0.3% caffeine!
As such, I think we can safely assume the method used is NOT the Swiss method; but it might be one of the other "natural" methods. I'm writing to the manufacturer to ask which method they use… don't know if or when they will reply. I will make a note to reply to you when they do. (10/7/2019: no reply has been provided.)
Lower Caffeine Consumption
However, if your primary concern is to lower caffeine consumption then cutting down on soda, chocolate, and tea (green & black) may help, too. Switching to coffee with lower amounts of caffeine, typically this means switching to only specific arabica coffees.
Lastly, if you cut down on the volume of coffee, say by switching from 12oz cup to 80z cup, you'll also see a reduction by 33%. You could also make weaker coffee or cut down the frequency of coffee drinking (not something I would like to do!)
If you're planning to cut out caffeine altogether, decaffeinated coffee may help but do remember it still contains caffeine, albeit at much reduced doses. There is no such thing as caffeine-free coffee.
If you're planning to cut out caffeine altogether, decaffeinated coffee may help but do remember it still contains caffeine, albeit at much reduced doses. There is no such thing as caffeine-free coffee.
Why Yuban Coffee probably isn't 'naturally' decaffeinated!
The natural process for decaffinating coffee is in fact an expensive process due to the energy inputs needed for the coffee, I suspect. Meaning that you in all likelihood won't find many mass market products that are processed in this way.
Most mass market branded coffees are simply cheap coffees mixed together for a particular target price/profit. The blending can be difficult to get right… but for brands, they tend to create a flavor profile and blend/roast to that profile.


Most natural processed coffee beans start around the $10~15 per pound price. I'm not sure what brands are considered ultra premium brands or whether they'd be decaffeinated by any particular means. In coffee, it matters more where the beans come, how they are picked/roasted/dried, etc., than what brand they are.
Best Wishes
Kenneth
Follow Up: Natural Water Process Decaffeinated Coffee
It's not often I get follow up to Reader's Questions: but with the recent question about Yuban Coffee decaffeination process, I received some follow up from Anthony explaining water process decaffeinated coffee. He writes:
Just placed an order with Rogers Directly through their Website. The prices are actually cheaper through them as opposed to Amazon.

Your diligence on my behalf is greatly appreciated and I will follow up with a taste review after my order has been received and sampled by me,

Thank you again,
Anthony
Then a few days later, he wrote with his comments about Rogers Direct coffee beans.
I did want to follow up with you as far as the Roger's Decaf you found and recommended for me in regards to my concerns… I can not thank you enough, as the coffee is excellent. I am still configuring my own personal strength level, although even too weak and t0o strong, the coffee was still fresh, not bitter and crisp tasting.

My purchase was for a 3lb. bag of the San Francisco Bay Decaf Colombian Supremo Coffee – SUPER Value-sized, 3 lb. Bag.

The price was extremely reasonable for the quality of this brand @ around $20.00 for the 3 lb. bag… and by ordering (2) 3 lb. bags, Rogers shipped it free. The packages where delivered promptly and extremely well put together for freshness as well as marked "100 % Water Processed".

Again, thanks, hope this helps someone in the future seeking an excellent Natural Water Process Decaffeinated Coffee at an extremely reasonable price.

Best Regards,
Anthony
So it seems that while not every mass market brand of decaffeinated coffee is processed using this method, you can still find natural water processed decaffeinated coffee brands. Add Rogers & Co (also branded as San Francisco Bay Coffee Co.) to your shopping list, please! It seems that they do provide good coffee. If you prefer, you can order direct (see the link below) or via Amazon.
And thanks, Anthony! I wish you lots of happy coffee drinking!


Kenneth
PS. By the way, I'd check before ordering from Amazon if I were you. The coffee may or may not be cheaper. I couldn't find equivalent weights when I last checked Amazon. Of course, your shipping choices may also affect the final prices. Let me know.
External Links
http://www.sanfranciscobaycoffee.com
San Francisco Bay Coffee @ Amazon
---
What are the best coffee brands, find out here!