PurelyCoffeeBeans visited Costco here in Taiwan just before New Year, and noted that they were selling several new Kirkland Local Origins coffees that I hadn't ever seen before. I have come across four so far… I keep wondering if I missed any…! Let me know! I was amazed by their quality and price.
Disclaimer: When you buy through a link on this site, I earn commission
from any qualifying purchases as I'm an Amazon Associate.
In fact, some of them sold out so quickly that I wasn't ever able to buy it a 2nd time! It was like watching the Toilet Paper Crisis of 2020 but for Kirkland Local Origins coffee!!!
If you prefer other brands of coffee, check out Costco stores for Kirkland coffee which is a quality, affordable roast that is sold at stores, and elsewhere online.
What will I learn about the Kirkland Local Origins Coffee?
In fact, a Reddit sub-thread mentioned that the Nicaraguan Coffee was being stocked in their store.
I was in San Diego last week and was visiting a Costco in the La Jolla area. I always go to a local Costco to find out if they have any regional specials whenever I travel. They were carrying a Kirkland Nicaraguan Peaberry Coffee (2 lb) for around $15 or so (I forget exactly). I haven't opened it yet as I still have another half pound of beans left from before. Has anyone tried this coffee? I can't find any reviews online. (linked at Reddit)
In fact, the Nicaraguan Peaberry Coffee wasn't the only one I found in the shelves at Costco. I also found Honduras Special Reserve. Both of these are part of the Kirkland Signature Limited Edition Single Origin Coffee range, and not one single result in Google!
I recently found the Kirkland Local Origins Limited Edition Single Origin Organic Peru featured below, and this week we'll be trying the Ethiopian Blend as well. So what's the rub? You might have to buy it in store! 
What is Kirkland Local Origins Coffee? Why is called "Limited Edition Single"?
I have so far found four coffee beans in this series. I'll add more. This is what the packet says:
"These exotic coffee beans are sourced in small lots from farmers, estates, and cooperatives from across the world. Elevation, processing methods, coffee bean variety and optimum roast levels are all evaluated by Costco Wholesale's own in-house coffee roaster.

A sample of each bean is roasted and brewed before final production and packaging in our warehouses. Because these coffees are so special, so availability is limited. Be sure to try them before they run out!"

For more about other Kirkland Local Origins available in store or on Amazon, check out this article Kirkland coffee.
Popular alternatives @ Amazon
Due to seasonal demand, limited supplies, and special offers… you may find that Kirkland Local Origins series coffees are not always available year round. I recommend that you check these alternatives on Amazon.
#1 What is Nicaraguan Select Peaberry Lots like?
This is a mix of Caturra and Catuai varietals. CoffeeSearch has a good brief introduction to both varietals, but suffice to say, both grow well at altitudes though need a lot of care during growth.
Notes on Caturra & Catuai Origins
Caturra tends to produce more volume of beans, while Catuai is more suitable for areas with stronger winds or more exposed settings as the fruit tends to bind to the coffee trees. The notes on the bag state that the beans are grown at 4000~4300 feet in a coffee growing region called Natural Reserve Cerro Datanli, El Diablo in Nicaragua.
The addition of Catuai to Caturra produces a better cupping as the higher yield affects the flavors of the Caturra.
Coffee Beans & Coffee in a Cup
You will note from the picture that the coffee beans are small & rounded as the term Peaberry would indicate. The process identified on the packet is washed. This is how the coffee shows itself in our own cups. I tend to add more coffee per cup than is standard, usually 12g~14g per cup. And a mug often measures to about 1 1/2 cups in total or about 300ml. So the flavor is more 'enhanced', or as colleagues call it 'strong'.
#2 How does Honduras Reserva Especial taste?
Nestling right next to the Nicaraguan on the Costco coffee shelf was the Honduran Special Reserve Blend. Of course, I had to try it, and the price point was also similar to the Nicaraguan.
The Honduran Reserva Especial mixes Pacamara and Bourbon varietals together. Wikipedia notes that the Pacamara beans were bred to increase the size, while the Bourbon varietal produces about 20~30% more beans than the Typica.
These beans were grown at between 4,200 and 5.600 feet in the Celaque Western Highlands
Kirkland Local Origins – Coffee Beans & Coffee in a Cup
They're quite small beans, and you can see there are several different types: some are smaller and rounder, while others are slightly larger in size. Roasted to a medium dark level, they appear slightly browner in the photo, than in real life.
We recently had the chance to share our coffee with friends from C.'s school life… served in a beautiful Rose decorated bone china cup.
#3 Where does Organic Peru coffee come from?
Costco still surprises from time to time in its coffee selections. I also stumbled across the following KS Local Origins coffee blend from Peru. In fact, our branch had both that and the following Ethiopian Origins AT THE SAME TIME.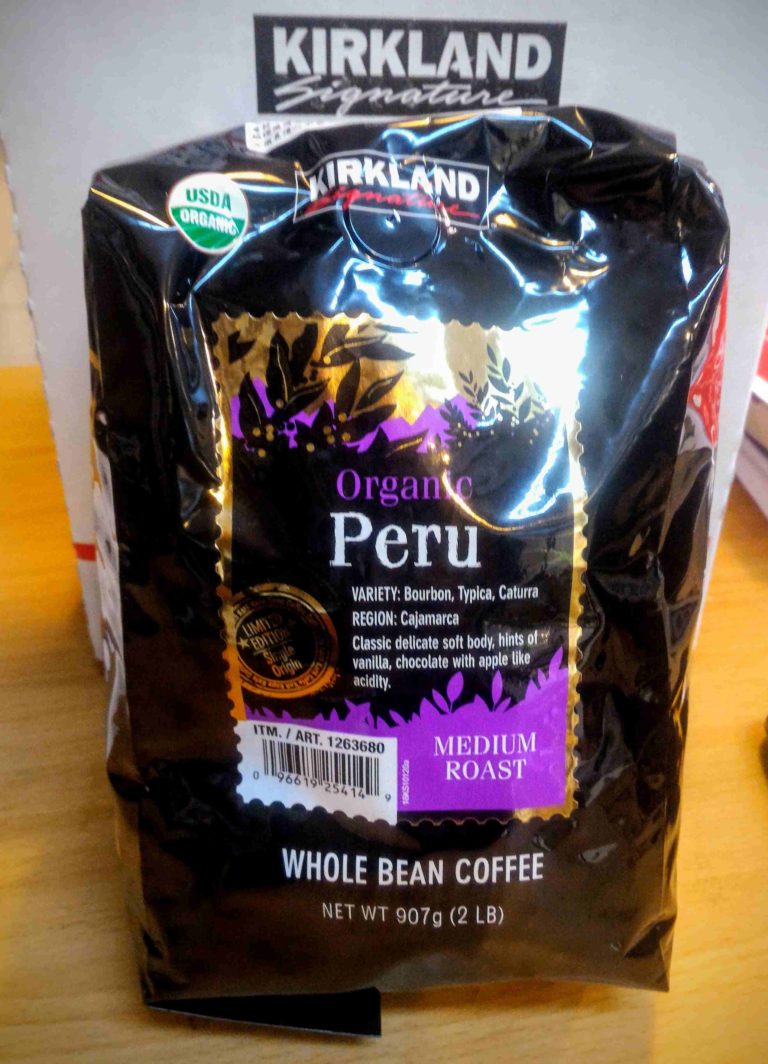 It is named: Kirkland Coffee Organic Peru. A mix of Bourbon, Typica, and Caturra varietals from Cajamarca in Peru. The coffee is a classic blend with a delicate soft body. Kirkland Local Origins reckons it has hints of chocolate, vanilla, and a touch of apple acidity.
It is one of a series of Kirkland Local Origins Coffee that has included Ethiopian and Nicaraguan Peaberry Coffee and Honduras Special Reserve. I'll keep checking!
#4 How does the Ethiopian Coffee perform in the cup? Personal Feedback
It's quite surprising what they have, but they aren't in many stores as some Reddit readers have commented. The details are as follows: Kirkland Ethiopia Jimma Region Organic Light Roast Coffee Beans.
I don't particularly recommend buying this product on Amazon, but feel free to check it out. Buy Kirkland Ethiopia Jimma Region on Amazon. Check the price, though!!!
Follow up! First impressions Kirkland Organic Ethiopian light roast coffee. from Coffee
At a family gathering I was quite hesitant to drink it, but downed 3 cups of the Ethiopian blend by the end of the occasion. It really drinks well. The Ethiopian is some nice drinking, all I can say.
It retains fruity notes, without turning your morning coffee into a cheek-puckering experience. It balances with some body, character and other notes that make drinking it rather pleasing. I much preferred it to the typically citrus Yirgacheffe blends that dominate Ethiopian coffees. I am quite happy to drink it black, though my colleague still prefers to add a dash of milk.
Really a medium roast
Costco notes that it is a 'light roast', though in the real world of coffee, this typically denotes a more medium roast than the name suggests. On grinding, I'm still getting a bit of chaff in the brew, too. The coffee is excellent, showing off its notes of berry and citrus without any astringency or acidity. Bag notes indicate that it is an organic coffee, too.
Can you substitute these Kirkland Local Origins?
As always, if you cannot find these on Amazon, and don't want to go to the store… I suggest you check out some of the other offerings via Amazon. I've included some suggestions below.
---
What are the best coffee brands, find out here!