As PurelyCoffeeBeans knows, the Starbucks Personal Drip Coffee System is now available! In Asia, disposable personal drip coffee has been a convenient and popular way to make coffee for a while now. It has also been significantly influenced by the 3rd wave coffee trends of recent years here.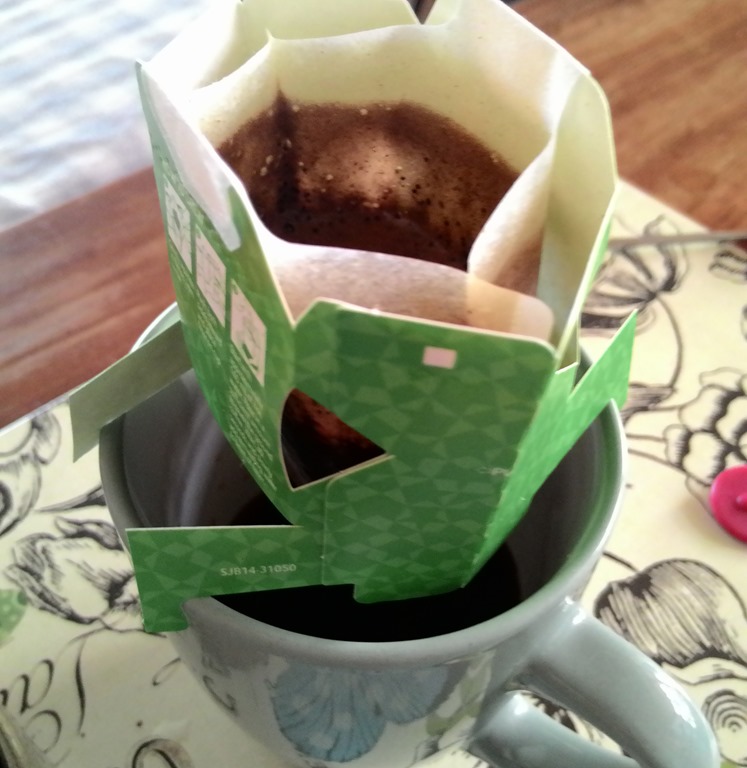 A few months ago, I featured a cup of coffee made with this Starbucks Personal Drip Coffee Filter from Starbucks Japan.
Starbucks USA doesn't feature the product on their website, but you never know. Compared to the Via system, the little sachets of instant coffee which retail about $1 per cup, they seem to be a little more expensive at over $2 a cup.
So what are they? How do they rate? What's your verdict?
What can I find out about Starbucks Personal Drip Coffee System?
How do I use the Starbucks Personal Drip Coffee System coffee?
Personal Review of Starbucks Origami coffee
What is Starbucks Origami – Starbucks Personal Drip Coffee System?
There are a variety of designs available. You can even find it in Starbucks' Origami (@Amazon)
but you'll get severe sticker shock!!! It is a fabulously easy way to enjoy making coffee, and there are a few hacks that can improve the quality of the final cuppa!
Let's introduce this product… I'll be showing you how to make this coffee later in the post. But first, enjoy the video!
Have you ever made coffee in this way before? Were you satisfied with the method, the product or the coffee? I'd love to hear your ideas!
How do you make coffee with the Starbucks Personal Drip Coffee System?
At 4am in a hotel, when you have to get up early, they make a good alternative to rushing around trying to find an open coffee shop or room service, even in Japan.
But how do you make coffee with ears? There are two methods: the simple method according to the packet & the variation. In Japan and Taiwan, you'll find many different manufacturers make coffee pouches like this. Each design is slightly different, but the general principles will work as I show you here.
What is the simplest method?
You need one tea cup (not a mug), big enough to hold the coffee packet, once opened; 200+/-cc of hot (not boiling) water; and sugar or cream, if you don't drink it black.
Open the packet carefully (with scissors if you have them), try not to tear the paper holder inside. Then pull out the insert from the foil packet.
Open the paper insert (it looks like a little pouch of coffee), open the right way up or the coffee will spill out! And place over your cup like in the picture. Make sure each leg stands over the edge of the cup, this will provide support for the unit once you start pouring hot water.
I've started pouring hot water now. Don't use boiling water! Good coffee is made with water that has been boiled and is hot enough (ie. about 90~95C or approx. 190F). Pour gently, pour carefully. Stop if you see a problem.
Pour the first until you see a small bloom, then let it filter into the cup; keep pouring gently and stopping until the tea cup is full or you have as much as you need. Don't put too much water through, it will just become watery.
How do I avoid disaster?
There is a delicate art to making coffee in the Starbucks Personal Drip Coffee System way (also referred here as Starbucks Origami), because you don't want the entire unit to fall over or get knocked off. Take it EASY! Don't rush! It makes a great cup of coffee, as fresh as the 10g of coffee inside. Better than instant any day! Check out this video that shows you how to do it!
Coffee Drip Bags: How to make drip bag coffee taste good
As PurelyCoffeeBeans knows, if you've traveled in Asia, you'll notice how coffee drip bags have become quite popular. Even Starbucks in Japan now manufactures several different types with a variety of roasts you can try. Unfortunately, they're not available in the US market yet, perhaps because Starbucks Via is a bigger seller.Let me tell you: they taste much better than Via. Much! In this article, I'll use the Starbucks Origami Personal Coffee System (good name, eh!)
What are coffee drip bags?
I call it the bag with ears because that's what it looks like! It's a tiny pouch that is sold in foil sealed bag. It should look like this.
The Simple Method is outlined here. But today I'd like to teach the Advanced Method.







What you need
Simple:
A kettle that you can boil a little amount of water
A jug of some sort (I'm using one from my drip coffee maker)
A cup (duh!)
A cooking thermometer
A water measure with fresh water for the coffee
And a packet of coffee (I'm using Starbucks Caffe Verona which contains 10g of finely ground coffee)
I also used additional hot water to warm the coffee pot and the mug.
Let's make it!
Step 1
When you open it you open the bag, you'll find a paper pouch that is also sealed.
This is the filter paper, filter frame, & coffee grounds. Open the pouch very carefully, don't use scissors, don't pull too hard and try really hard not to tear it!
Step 2
Boil the water and add the required amount to the measuring cup. Pour the remainder in the cup to warm it; and into the jug to warm it.
Step 3
Toss out the hot water in the coffee jug, check the coffee hot water isn't too hot or too cold. I tend to use about 90~95C range. Add this to the jug.
Step 4
Add the coffee grounds to the jug and stir once. Wait about 60 seconds for the infusion process to work.
Step 5
Toss out the hot water in the cup. Then place the empty filter bag & support on the cup and pour the contents of the jug slowly into the filter paper until the jug is empty.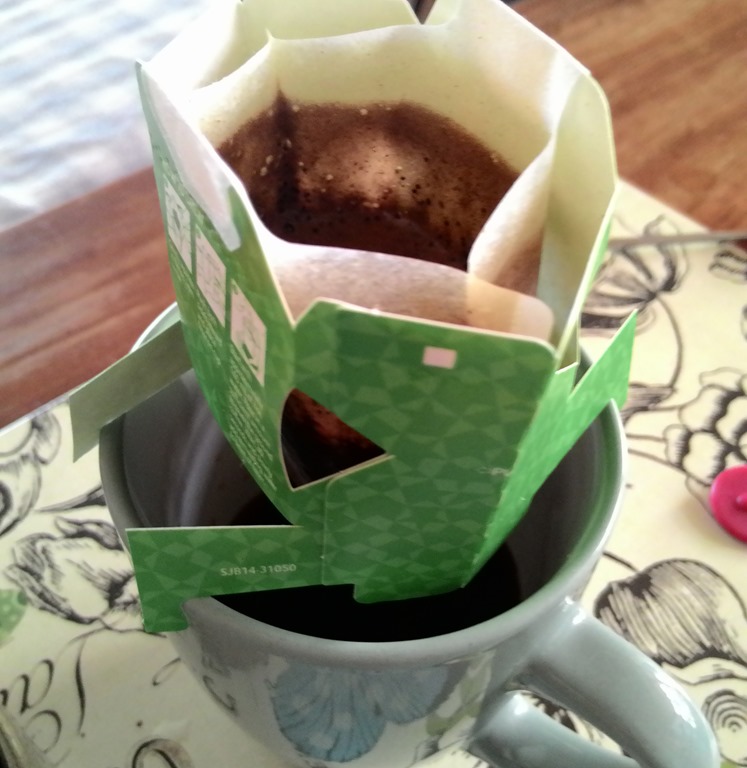 Step 6
Tidy up. Add milk & sugar if you need it.
Using Coffee Drip Bags to make coffee
Extra Tips for using these coffee drip bags!
The advantage of this system is that you get a better more flavorful cup of coffee than the simple method.
The minimum additional item you need to do this in a hotel is some kind of jug. You can judge the water amount by eye or cup size in the room.
Just don't infuse too long because the flavor may change or become too bitter. If it tastes too strong or goes a little cold, you can add some hot water, too. Just don't add too much.
Remember: the temperature decreases with time so try to keep your equipment warm; add hot water to the final cup, and don't let it sit too long. Adding cold milk straight from the fridge will cool the drink even more.
Better than instant
It's way better than instant coffee you find in many hotel bedrooms; and if you can't bear the hotel coffee in the restaurant, you can finally have your own 'mini' coffee bar in your room! After all, not every hotel has a decent coffee shop!
Have you seen these portable coffee filters before? What did you think of them? Have you tried?
Social: Have you tried coffee drip bags?
Has anyone tried these? Any thoughts or opinions? from Coffee
As PurelyCoffeeBeans knows, coffee drip bags are quite popular in Taiwan and Japan. It's a muss-free way to make coffee. But as you'd expect the coffee is average: though it is packed in foil, the roasting, grinding and packaging are often done weeks or months before by the big companies. There is one guy I know who does it really well, he does the roasting, packing quickly. And he sells out quickly but he only sells via his store in Taipei.
The other problem is the method of preparing: without a jug with a long thing handle, you're reduced to using uncontrolled glugs of water that splash everywhere. The soaking of the grounds is uneven at best. So the real benefit is that it's hot, and it's coffee. That's it.
Starbucks, in Japan, make a slightly better version… It's called the Personal Drip Coffee System.
Overall, I prefer a traditional cone with filter paper… I can make as much as I need. It doesn't rip, tear or spill like these do. And I can control the water and soaking better because it's wider than a drip bag. No, they're not ideal.
Edit: In reference to your picture, they are certainly on-the-go. However,… their biodegradability depends entirely on the paper/plastic used (yes, some paper filters use plastic, too) and the claims to eco-friendliness are suspect as well.
Obviously, coffee grounds are reusable… but I have no idea if they are grown with pesticides, etc. I wouldn't assume by any means that the average drip bag is either eco-friendly or boidegradable.
And finally, you could buy your own drip bags, pack your own coffee, and DIY. Would be quite fine, I think. Pouring the water will always be tricky: you'll sometimes end up with coffee grounds in the cup, or hot water all over the table. It's not ideal.
For more discussion on coffee drip bags, check Reddit.
---
For more information and recipes on to our How To Make Coffee Page