Starbucks Coffee Company: Past, Present and Future
In 2019, Starbucks Coffee Company, as PurelyCoffeeBeans knows, is still the largest coffee chain company in the world with over 30,000 stores in 72 countries, the majority of which are still in the United States.
Disclaimer: When you buy through a link on this site, I earn commission
from any qualifying purchases as I'm an Amazon Associate.
It is perhaps the most influential coffee brand in the entire world. And expansion continues aggressively, especially in emerging markets and new products.
What will I learn about Starbucks Coffee Company?
What is Starbucks doing to deal with problems & competition?
What are some threats to Starbucks?

High Prices – Low Quality
Negative image
Poor quality control
Just being cheap
And in the other corner?
Education in how not to run a global giant!

What is the Starbucks Roastery?
In the crystal ball, what is Starbucks' future looking like?
The Starbucks Coffee Company is building a presence in even more countries worldwide. And it develops its coffee drinks sales from a variety of stores in both location and size, from small outlets to large scale premises in prestige locations, all selling a variety of Starbucks coffee beans, to go and for home brewing.
On their menus you will find a variety of coffee drinks (such as cappuccino,latte, mocha, etc), teas and fruit juices, as well as their own brand of coffee beans, and a range of other products, too.
2011 saw the relaunch of the Starbucks Coffee logo with the word 'Coffee' removed entirely from the logo. Howard Schulz, and his successors, have big plans to turn Starbucks Coffee company into a premium brand retailer of not just coffee.


We've already seen the development of its retail sales in supermarkets with its bottled beverages, instant coffees, and music sales. Apparently, this is not all. But this is a far cry from Starbucks Coffee's original mission…
How did Starbucks begin? From humble origins to IPO
Starbucks Coffee Company began life as a small coffee roaster and coffee retailer in 1971, set up by two teachers and a writer. Starbucks Coffee Company first store remains open to this day at 1912 Pike Place, and the name is still used on special edition coffee roasts. This early start is still commemorated in their Pike Place Roast.
It was during these early days that the company fomented their roasting skills as they specialized in roasting quality beans that were purchased from growers, and selling them to the retail market. Initially, the partners were against selling any drinks in the store; and Howard Schultz who had joined the company in 1982 realized that there was a much larger demand for freshly prepared coffee.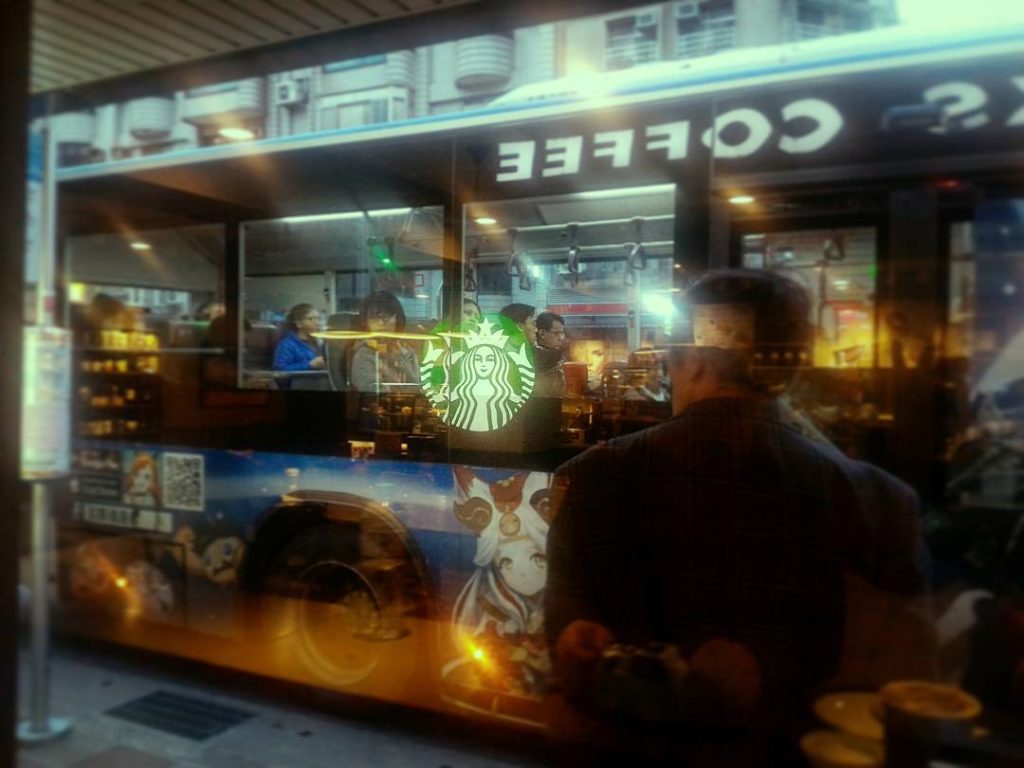 You're never too far from Starbucks: (c) LookThroughTheLens.com Kenneth Dickson
Instead they concentrated on expanding the retail sales by buying their first supplier, Peet's; but in 1986, Schultz started the coffee bar chainstore, Il Giornale. You can still see the original concept in most Starbucks stores today, as retail merchandise from coffee beans to mugs to coffee makers are still available.
In 1987, Schultz took over the Starbucks Coffee Company and all his Il Giornale stores were remodeled and branded with the Starbucks Coffee name. The modern incarnation was born. By 1992, and its IPO on the stock market, Starbucks had grown to nearly 200 stores.
How is Starbucks Coffee Company expanding?
Starbucks Coffee Company soon opened stores throughout the area and quickly began to expand across the country and then the world which began in 1996 in Japan. Further takeovers were also carried out, including one of my favorite stores: Seattle Coffee Company. This was followed by takeovers of Seattle's Best Coffee, including a number of well-known names – like Diedrich Coffee or Coffee People.
The stock also caught investors' attention, and (at adjusted prices) went from less than $1 a share in 1993 to almost $99.72 in 2019. A huge increase that would have rewarded those insightful investors handsomely in 26 years!
What is the 'Starbucks Way'?
Starbucks Coffee Company stores are a part of the morning routine of millions of commuters, who can't imagine not getting their breakfast pastry or a cup of coffee made to their specific order every day. The cafes strive to maintain a casual but orderly atmosphere and offer a variety of drip coffee, espresso and other hot and cold drinks, high quality coffee beans, snacks and sandwiches, salads, coffee mugs and other merchandise.
Starbucks employees who wear black aprons with "Coffee Master" printed on them have attended the company's Coffee Master course. You can ask these employees nearly anything about growing regions, roasting methods, purchasing practices and other coffee subjects and get a knowledgeable answer. They can tell after a brief conversation with you what kind of coffee beans would appeal to your tastes and from what region the beans will come from!
Are Starbucks coffee beans good?
To read more about Starbucks coffee, click on the article here: Starbucks Coffee. Or check out some of the actual popular Starbucks coffee products below. Or continue reading below.
What is Starbucks new policy?
The Starbucks Coffee Company has had a fair-trade policy for some time; they buy only organically grown coffee from family farmers who used earth friendly farming practices and natural pest control.
In 2000 they introduced their own line of fair trade products and are now the largest buyer of Certified Fair Trade coffee on the North American continent, which is ten percent of the global market.
Starbucks Coffee Company also devotes a lot of effort to charitable causes, mainly child-based. When you visit one of their stores, you will probably notice a collection box for one of their various children's charities from around the world.
What are some threats to Starbucks?
Since 2007, though, the company has faced some tremendous challenges in the market place, with the economics, with over-paced expansion, and in the stock market as the initial romance faded.
Despite being a part of many consumers lives, the company is now facing some real challenges to its core businesses, not least:
High Prices – Low Quality
Starbucks has always tried to maintain its price-point, and in the early days hiked prices on baked goods several times; but with only a minimal improvement in product quality. Their range is much better than it used to be, but competitors abound and they tend to stock more delicious cakes, breads, sandwiches, and much more.
Whereas, it's not unusual to go into a Starbucks in the late afternoon or early evening and find not much left on the shelves to eat. The managers seem SO scared of ordering too much food, and some of it going to waste that they'd rather not take the risk of not selling it out. They, of course, leave a lot of extra money on the table; and customers' bellies are empty, too!
Negative Image
Starbucks has a large number of negatives in my mind these days: the trouble over their attempt at increasing the size of the drinks really annoyed many regulars – a medium cup was no longer 12fl.oz but 16oz because the large size was now 20oz. Many customers were offended by this practice, and in our local market, the company relented.
Poor Quality Control
Starbucks core coffee quality has also suffered, in a number of obvious ways. First, coffee flavor is no longer ubiquitous; there are two types of coffee machines in use now – the traditional espresso machines that require a real barista's skill and the automated machines that vend coffee like a typical vending machine. The flavor of the coffee produced is different in character, strength and color between these two types of machines.
I have had terrible coffee produced by these machines on more than one occasion; and I always complain by sending it back. Even adding an extra shot doesn't quite reach the quality of the original espresso machines!
Just Being Cheap
They also cut a number of their services (including free water, and some stores no longer put out milk or cream for coffee); they make little effort at recycling by encouraging even sit-in customers to use paper cups, disposable plates and cutlery when all of these simply shout premium cheapskate.
Another real complaint from all of the stores I've been: why do we have to pay for Wifi in the store in many markets? Many of the competitors provide free wi-fi all the time; and many customers with mobile broadband are reluctant to pay twice, if they can't access their own service.
The last big bugbear is, of course, the fact that the coffee shops throw away a lot of their unsold, out-of-date food which could otherwise be given away to those in need.
And in the other corner? Competitors!
Photo by Omar Lopez on Unsplash
So, naturally, competitors arose in many markets; some of them were natural competitors who were slow to adapt to the new phenomenon, others simply didn't market skills and products that they already had, say Dunkin Donuts.
But in the past five years, competitors in many markets have appeared; I am a big fan of Barista Coffee in Taiwan which makes one of the best cappuccinos I've ever had; 85C which has great cakes and Americano coffee, and is now expanding in many Asian markets; of course, you can also buy coffee at Dunkin Donuts (which is strong, succulent, and delicious).
Australia represents one market where the Starbucks Coffee company actually had to withdraw by closing down most of its stores, because Australia was such a competitive market already. Italian and Greek immigrants really drove the initial development but the coffee craze began in 1980's, just as in Seattle; and Starbucks never really managed to adapt their products to the more European tastes. Even in the UK, many coffee shops draw on the European traditions of darker, stronger and less sweet coffee drinks.
Even McDonalds is making great coffee these days. So I wonder: What will Starbucks Coffee Company have to do to regain customer's undying devotion? While Starbucks Via, and some of the other Starbucks product developments are helping to retain eyeballs; I don't think many investors really believe that selling instant coffee will really turn things around!
Education in how not to run a global giant!
But their biggest challenge has been their insistence on selling only one brand of their own house coffee on their stands. They were the first real coffee chain that went global, and they educated their clientele to buy good coffee rather than the Nestle instant coffee we've all been drinking since soluble records began.


At some point, though, their education stopped; and they ramped up the marketing instead. Many customers now have little or no idea what goes into their morning brew, as the company seems to turn out more and more variations of coffee that get further and further from the company's roots.
What food does Starbucks have?
Welcome to Starbucks Coffee Shop Food Servings! Enjoy! In Taiwan, we regularly have new menu items that means there is always something new to try!
Food Servings @ Starbucks Coffee. Starbucks always has sandwiches, wraps, cakes, and salads for sale. While quality isn't always the best, you're sure to find something if you're hungry and need something to go with that hot latte you just bought!
Starbucks Coffee Desserts #1: The Lemon Tart
Bon appetit! A Lemon Cream Pie, served with Coffee of the Day: Pike Place Roast & a dash of milk. Best way to start the week!
Starbucks Coffee Desserts #2: Custard Pudding Cake
This custard pudding cake otherwise known as a caramel bread & butter pudding bun tastes as good as it looks! Paired with a decent cup of coffee: something that balances its sweetness. Now I've tried to find other variations. It seems to look like a bun/cake but the custard and pudding made me think of a traditional bread & butter pudding in the UK. Pleasantly nice, however.
Coffee Desserts #3: Apple With Custard Cake
Thought you'd enjoy this photo: coffee & Apple with Custard Mousse cake, courtesy of Starbucks Taiwan. Description from Google Translate says:
"Sweet caramel flavor whipped cream and sponge cake, with vanilla and honey apple stuffing"
I used to rag on Starbucks bakery items in Taiwan, but increasingly I find the cakes creative, tasty and a trifle (hah!) expensive. With our expanding waistlines, we usually give them a sad pass.
Oh, boy! How long will 2020's New Year's Resolutions last with these Starbucks Coffee food servings?
Can Starbucks Really Be Dead?
A recent Quora question that I answered:
Thousands of stores across the world, with much of the developing world still untapped. I'd say Starbucks is far from dead.
Potentially already peaked in old markets, however. Without new products to expand revenues, I'd say it faces a less than stellar future there. However, there is the reason for removing 'Coffee' from its logo. Now it can sell whatever it likes.
"Now, Starbucks has more than 30,000 stores and employs more than 400,000 partners in 80 countries around the world."
https://www.starbucks.com.cn/en/…
Recently opened in India, which has only 150 stores… so I'd say there is plenty of growth in both India and China. Remember the US has 14,000 stores. So there is plenty of opportunity for market penetration. Oh, and by the way, Asia has another 1.5 billion people elsewhere.
Even with a lower level of store penetration, Starbucks could easily double its number of stores in Asia alone with market penetration of less than 15% of the size of the US. Let's not forget Africa and South/Central America as well. So the Starbucks business story has a LONG way to run, if they don't screw up.
What do Starbucks Coffee Bags look like now?
New Starbucks Coffee Bag Designs Replace Corporate Blandness
Now I'm loving the new look Starbucks Bags I'm seeing everywhere now. I absolutely loathed the previous designs and found them lacking flair, distinctiveness & rarely bought coffee beans in those old bags. But the new bags for Starbucks coffee beans are much classier so I'm no longer confused to buy a bag of coffee beans. And the new Starbucks Coffee bags are great!
They leave in no doubt what kind of beans you're buying: Blonde Roasts, Medium Roasts and Dark Roasts are clearly delineated. So there's no more squinting at the purple faded pictures to figure out whether you've bought the right coffee or not!
So I'm glad that Starbucks decided different bags and bold designs emphasized the coffee rather than generic bland designs of the previous redesign. For more information about the designs, check out the article: Behind The Design: Interview with Mike Peck and Steve Murray on Starbucks New Retail Coffee Packaging at the DieLine. Check out some gorgeous close-ups, too.
Does Starbucks have a future? Or is it really dead?
Expansion is continuing in emerging markets, especially China and South East Asia; but challenges abound for this global giant.
There are so many ways a good coffee shop chain could run rings around Starbucks Coffee Company, that I wonder how the owners and managers sleep soundly at night.
By focusing on coffee and what it really is, by educating customers about the amazing variety of coffee beans there are, some of which are available on Starbucks' own merchandizing tables; by creating new drinks based on traditional products; by …
Starbucks Coffee Company has opened the Pandora's box for coffee, and for the longest time was the unofficial representative of good coffee in many countries; but nimble competitors are finding gaping holes in the market and serving them gladly.
Starbucks, wake up! Smell the Starbucks coffee beans! There are many eager and strong competitors in every coffee niche here – each of which is itching to take a large part (or all?) of your business. And I, for one, believe we'll all be better for it, too!
What is Starbucks Stock Price (SBUX)?
Starbucks stock price (sbux) has been on a tear recently. Having reached a peak of $99.72 in the summer, it has fallen by about 10% since then. Given the large markets that they are growing into, I expect growth to rebound in revenues, profits, and ultimately its stock price. One day.
Schultz on Starbucks Coffee Company's Future
---
What are the best coffee brands, find out here!