… So let's start with the most best types of coffee bean grinders, one that I have purchased on several occasions, and use… mostly for convenience.
The most common type of grinder is the coffee blade grinder, while many people feel that a conical burr is the only way to go, and yet others prefer to use a manual coffee grinder.
Disclaimer: When you buy through a link on this site, I earn commission
from any qualifying purchases as I'm an Amazon Associate.
Is the blade coffee grinder bad?
As its name suggests, this blade style uses twin blades that whir around at amazing speed to chop and grind your coffee beans into a suitable grind for your coffee maker. So it's not bad in that sense. It does the job.
For your everyday automatic drip coffee makers, a blade grinder is perfectly fine. If your coffee making is a bit more involved, such as brewing espresso, the blade type grinder is not as suitable.
These simple to use grinders take up less counter space than other types of grinders and many are compact enough to tuck away in a drawer when you are not using them. Blade grinders are very easy to clean, usually a simple wipe down is all that is necessary between uses.

Moreover, blade coffee grinders can also grind nuts and spices so they can do double duty, unlike other kinds of coffee grinders, listed below. They're also cheaper than most other kinds, as the reviews will show you.
So is the burr coffee grinder any better?
This type of burr grinders will give you more control over the finished grounds than any other type of grinder. And it's probably the most suitable for making the biggest range of coffee drinks!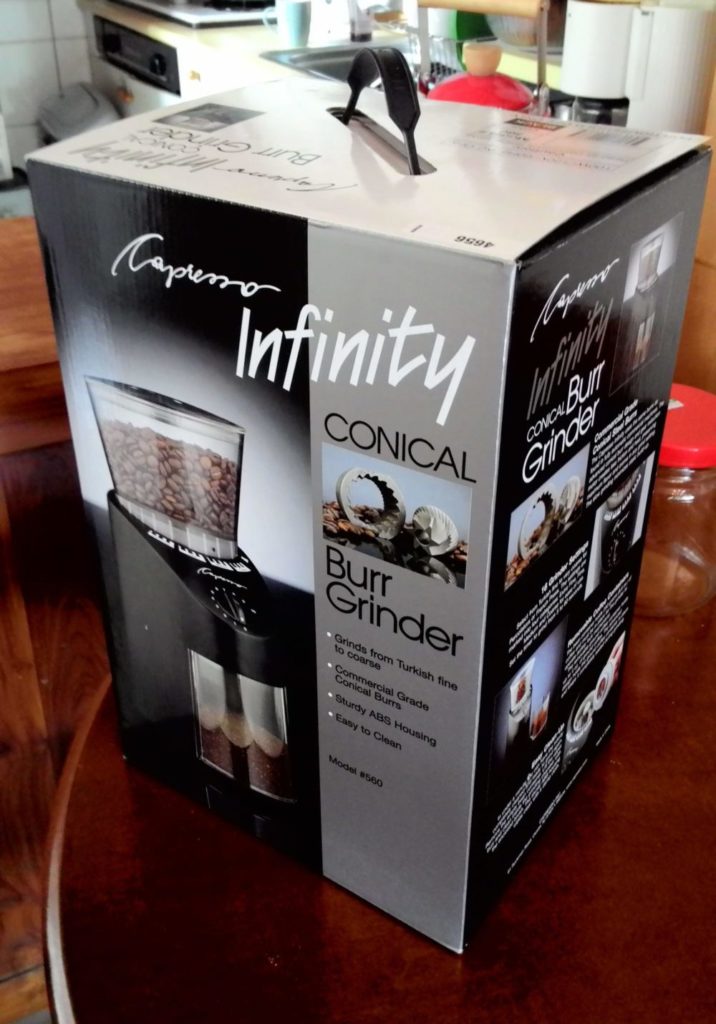 Using two plates, similar to spiked wheels, the burr grinder gently feeds the coffee beans through and between the wheels which rotate to grind the beans into the desired coarseness or fineness that you have pre set with this type of grinder.
You will find that there are 2 main types of burr grinders available to you. The main difference between the 2 is that the regular burr grinders have flat, burred metal plates. The conical burr grinder has a conical shaped wheel grinder that most often produces a more consistent grind.
Both styles of burr grinders are calibrated to deliver even grounds of coffee, and most burr machines allow you to set the size of your grind from extra fine to very coarse.
Many people prefer to use a conical burr grinder because of the evenness of the grind it will produce. This is especially important when you are using an espresso machine to make espresso or espresso-derived coffee drinks, like latte or cappuccino.
Uneven grinds can lend to the bitter taste you may experience from using a blade grinder. One popular example is the Capresso Grinder (I love mine). Another worth looking at is the Krups Grinder series. They do retail at a higher price than the blade grinder. But the final quality is in the grounds, smoother, finer and overall they produce a better cup of coffee!
You'll find more burr grinder reviews, and if you have your own experience, we'd welcome your experience and conical burr grinder review, too!


Is a manual coffee grinder better than electric?
For true consistency, a manual coffee grinder cannot be beaten. BUT, as the title suggests, it is manual… which means you need to supply the human power to get the grinding job done. Plan on spending a couple minutes per cup grinding the beans manually with this type of grinder… it's slow but fun! See the picture at the top!
What makes a good cup of coffee?
Manually grinding your coffee beans puts you in complete control of the outcome of your coffee. With a simple adjustment of the grind size knob, you can control the strength of your coffee and grind just the exact amount needed for one brewing.
The better models have adjustable grinding burrs, so that you can adjust the grind size of your beans to suit your preference. If you love being as close to the process of coffee making as possible, a manual grinder is just what you are looking for. Many people feel that using a manual grinder really makes a huge difference in the quality of their coffee.

Why do you use a Turkish coffee grinder?
Almost any of the electric burr grinders can grind your coffee fine enough for Turkish coffee, if you run the grounds through a second time at the finest setting and brew your coffee immediately.
However, using a true Turkish grinder will produce the nice, fine-fine coffee grounds that are so important to a decent cup of Turkish coffee. Investing in a wooden manual coffee grinder will bring you the good tasting Turkish coffee that you remember from the coffee houses.
And it is really a special pleasure to be able to select your special coffee beans, then manually grind them to perfection by hand. There is a quiet contentment that is achieved when you take that first sip … and breathe in the aroma of your perfect cup of java.
The Turkish coffee grinder is probably the only grinder that can only produce one kind of coffee. So it's quite specific to this type of coffee. I'd only recommend it if you're accustomed to drinking Turkish coffee (or Greek coffee) or you have too much space in your kitchen cupboards!


Is buying a coffee grinder worth it?
When the taste of your coffee is of utmost importance to you, using any one of these grinders to grind your own coffee beans at home is the only way to go. So I'd say "Totally worth it!" And so would Terry, proud owner of this Flying Horse Grinder from Taiwan.
One neat twist is the coffee maker with grinder built-in! So you can grind your coffee and make it with the same machine. No idea if you can do both at the same time! If you're still not sure which grinders to look at, read the coffee grinder reviews we have on our site, and let our other readers be your guide.
Originally written by Chris & Betty Zeigler, updated by Kenneth Dickson.